Our 3rd graders were beaming with pride as they listened to the Chautauqua Institution Young Playwrights read their plays aloud to the group. Students have been learning about the play writing process and scripting their own plays as a part of this memorable program. Great job students!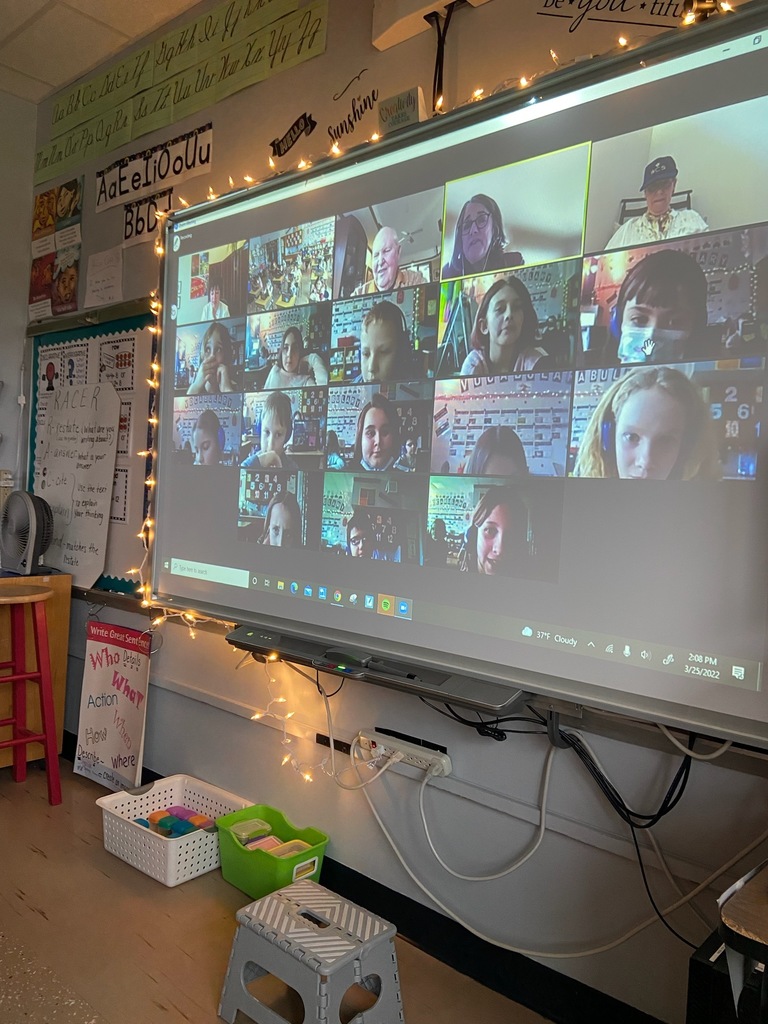 Looks like our middle school students had some fun at Friday's activity night! Thank you Student Government!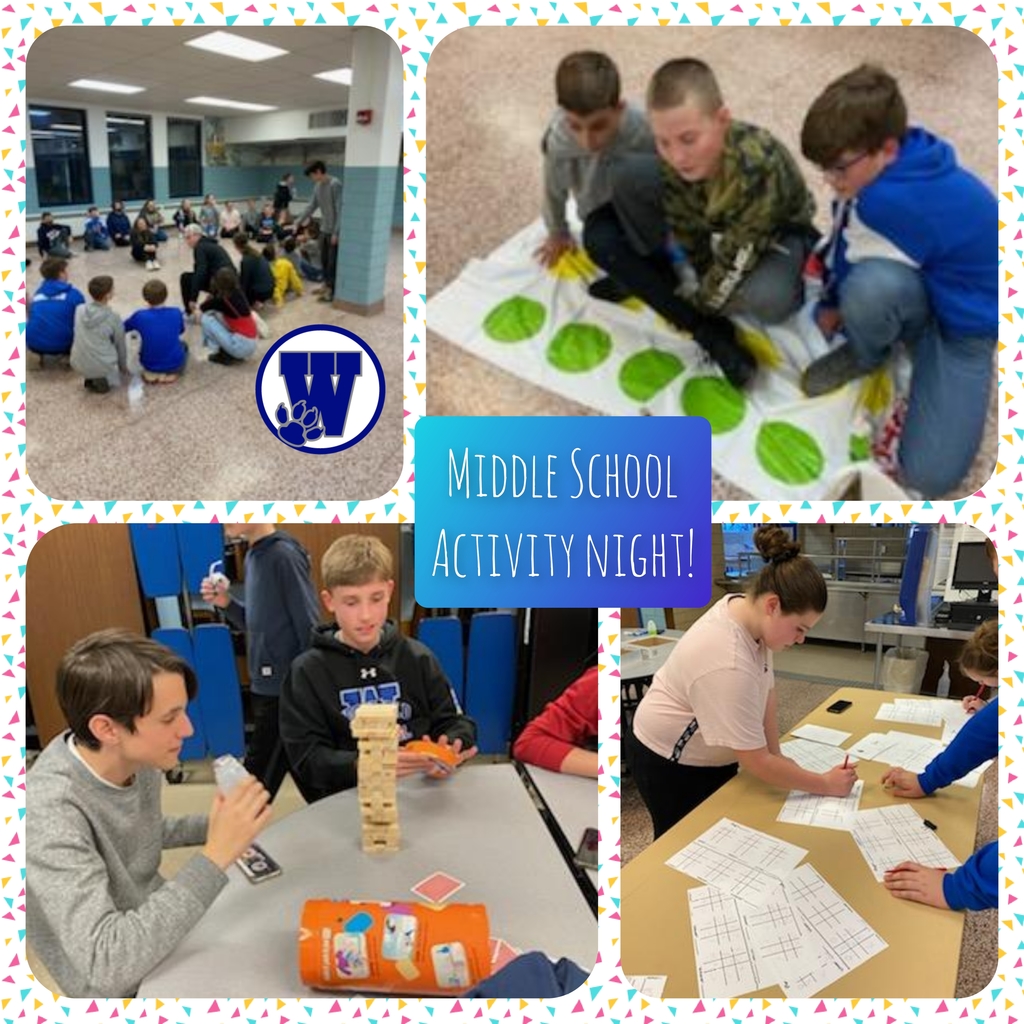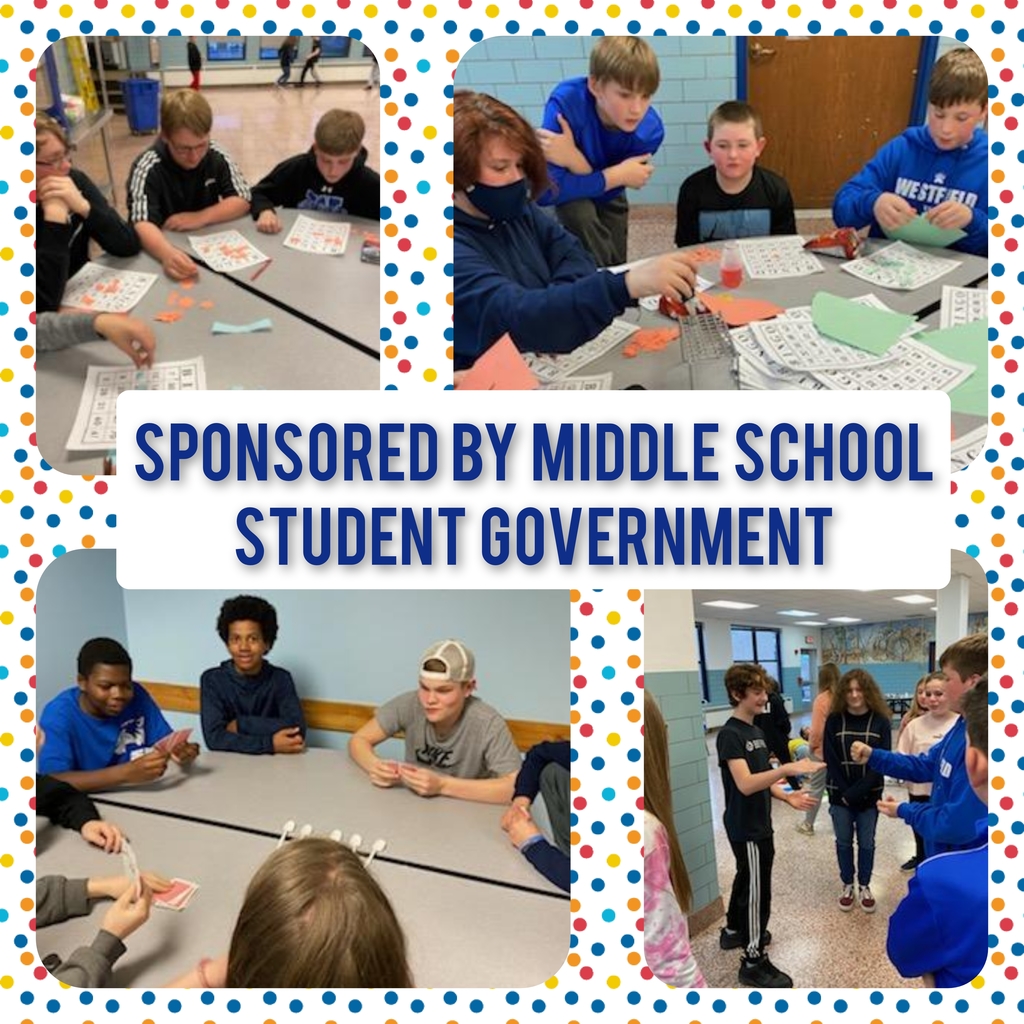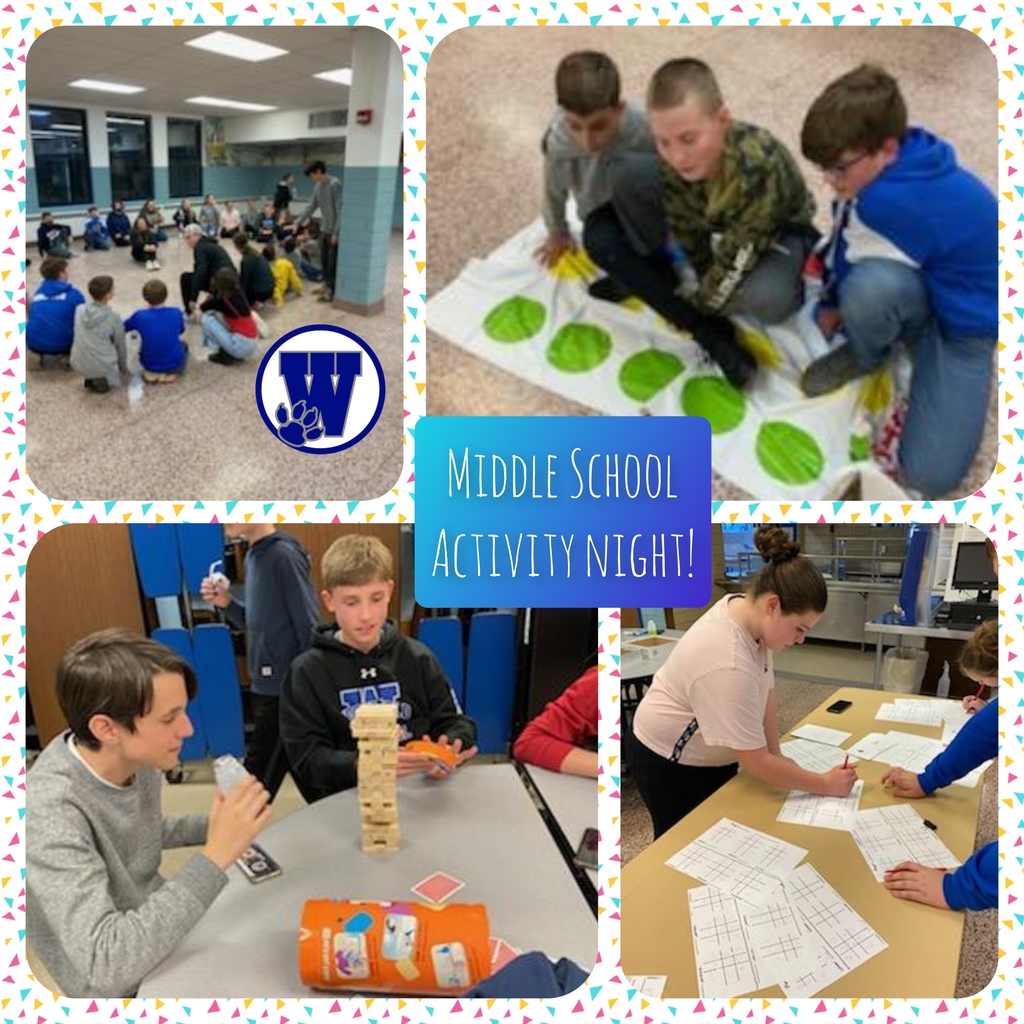 Due to the power outage and anticipated ongoing concerns related to the outage, Westfield School will be closed today, Thursday March 24, 2022.

Qualifying to compete in the 3-point shooting contest at halftime are Carson Swanson, Carter Russo, Aaron Fuller and Mikail Lawrence. WACS will be the only school in the county with it's entire starting 5 representing Wednesday night! This incredible season gets one more night!

Darien Swanson, Cole Holland, Ethan Weingart, Wyatt Schuster and Josh Barresi were all selected to play in the Chaut. County Sr. All-Star game on 3/23 at 8pm at Fredonia State. As class D Champions, our seniors will get a chance at some point to play together in the game.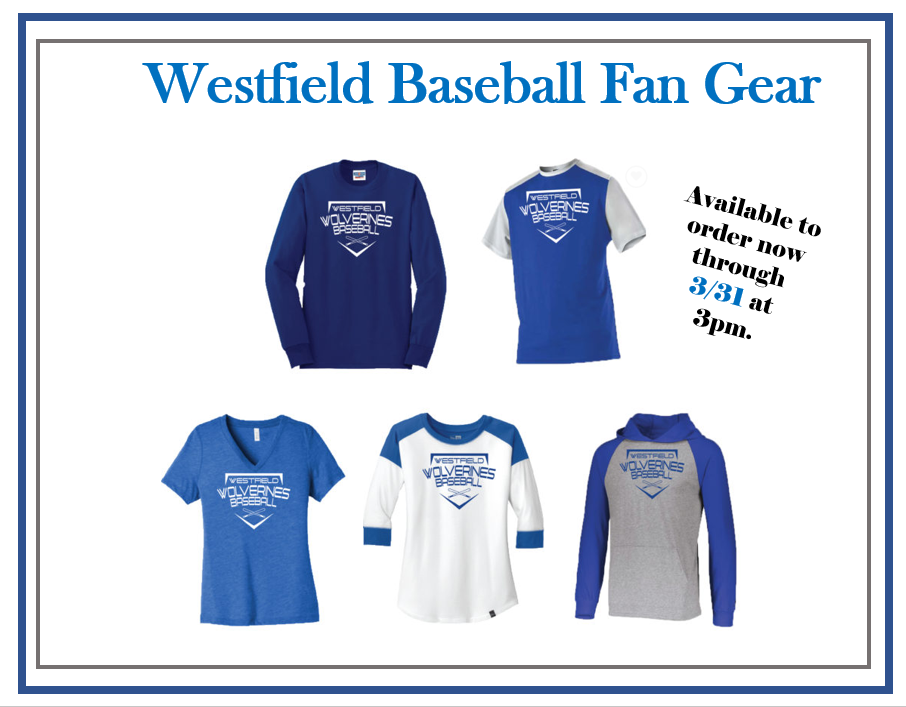 Elementary Spring Picture Day is coming up at WACS on Wednesday, April 20, 2022! Order online at inter-state.com/order using Order Code 67678MF.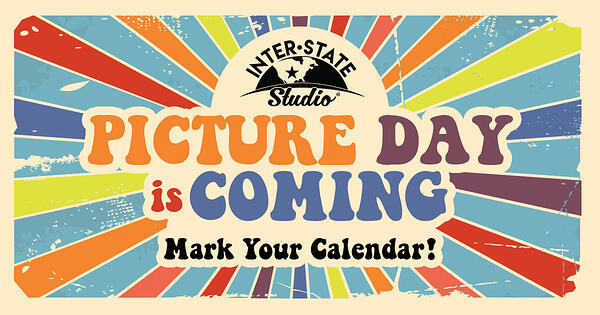 Middle School Activity Night This Friday from 6-8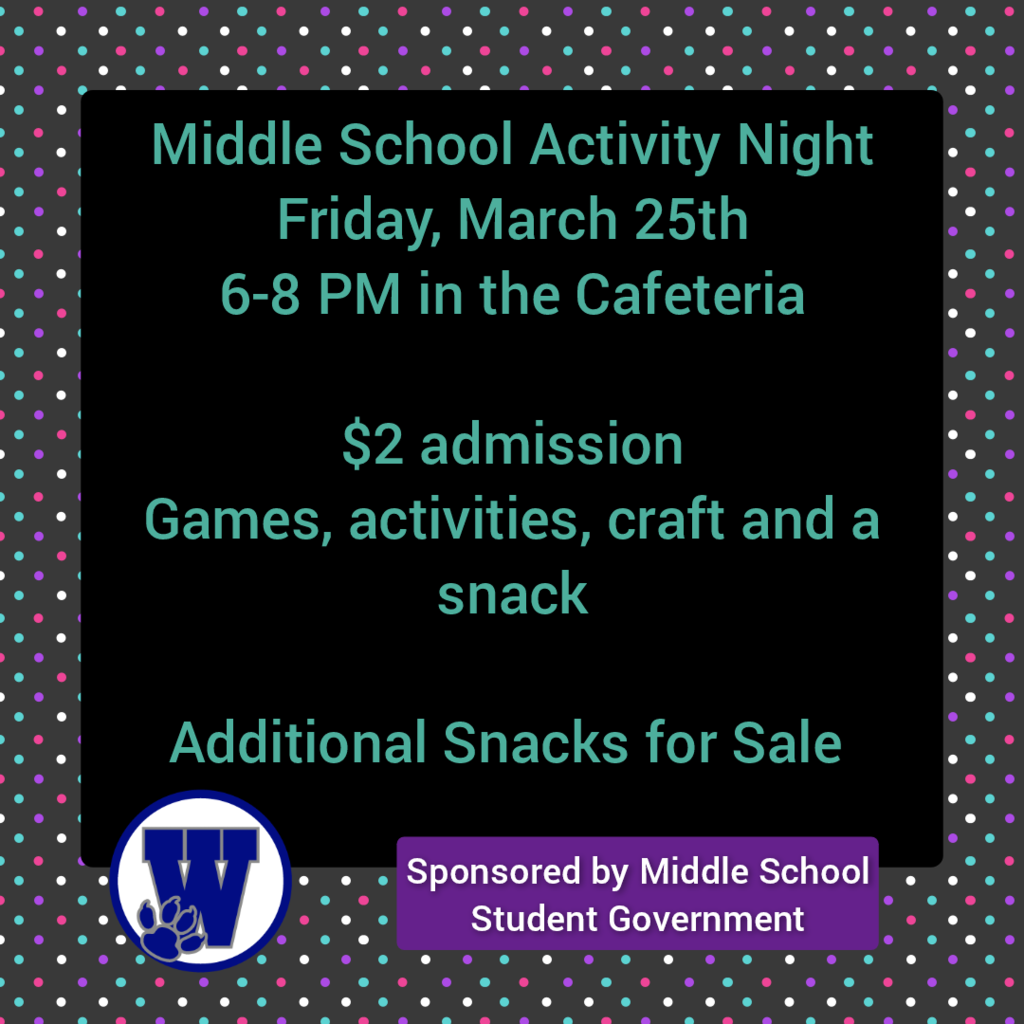 Join us here at WACS on Monday, March 21, 2022, as we wear our colorful, fun, mismatched socks to raise awareness for and celebrate the inclusion of people we know and love with Down syndrome! Every year, on March 21st, people all around the world come together to celebrate World Down Syndrome Day by wearing brightly colored, mismatched socks. March 21st (3/21) is symbolic because people with Down syndrome have 3 copies of their 21st chromosome.Socks were chosen because the karyotype of Down syndrome chromosomes actually looks like mismatched socks!

Tomorrow's engineers are in our classrooms today! Our third graders worked together to design bridges using only two pieces of paper on a frame of stacked books. Their goal was to support the greatest amount of weight, which was measured in washers. Students worked together to cut, roll, fold, and balance their papers to maximize the supporting forces, keeping all other variables constant. They measured, tested, and evaluated their plans to come up with the incredible designs that you see here as a part of their Mystery Science Balanced Forces & Engineering unit. We applaud their problem solving, grit, and teamwork!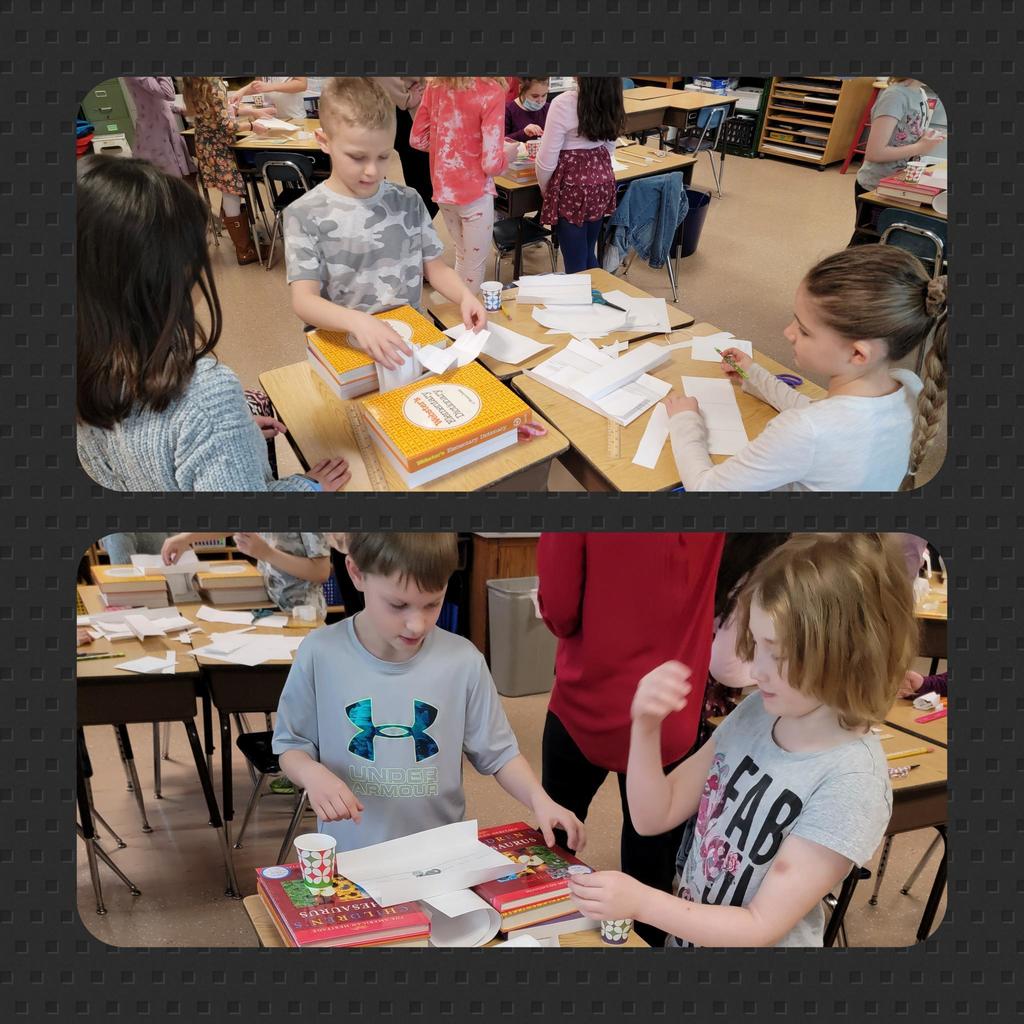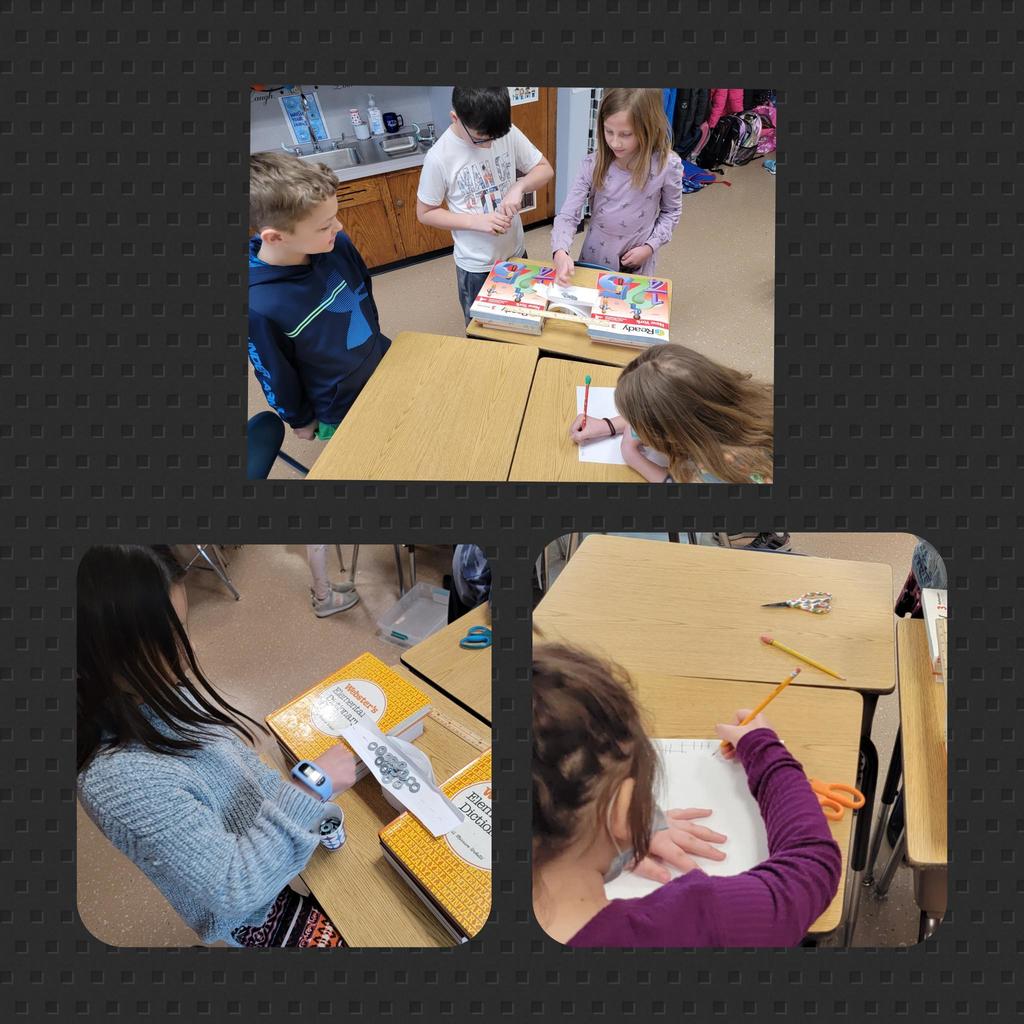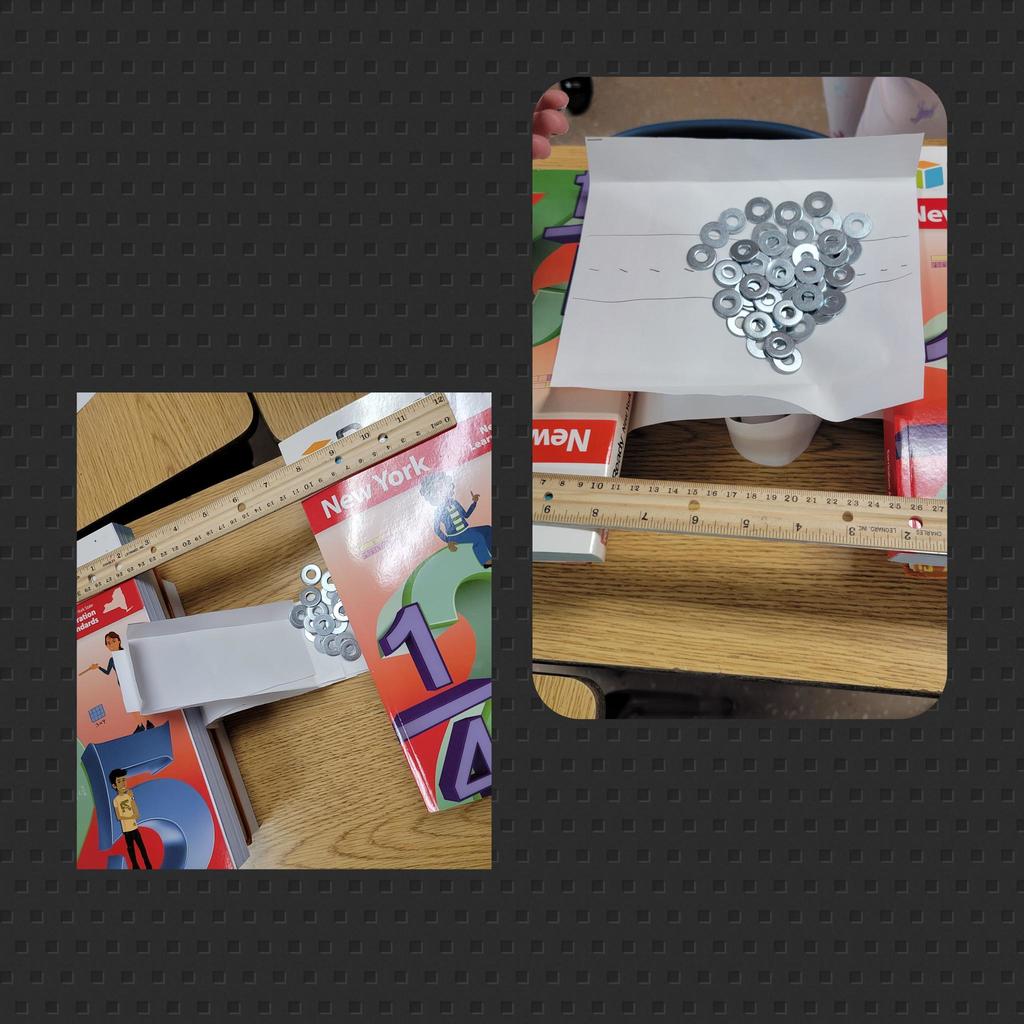 We can't think of a better way to celebrate 3.14, Pi Day, than with an Inaugural School Team Challenge sponsored by SUNY Fredonia's Department of Mathematical Sciences! The students pictured here calculated a plan based on the required components for this mathematical Pi Day competition. They submitted the video linked below at 3:14am today and are anxiously awaiting the results. We will share those when they are announced by the college. In the meantime, please enjoy some math humor from our students. Billy 'Pi'dol Presents Nice Day for a 'Pi' Wedding:
https://ensemble.e2ccb.org/Watch/k7LRs3x5
Special shout out to Mrs. Murtaugh and Mrs. Riedesel for their encouragement and support!

Congrats to our Boys Basketball team on an outstanding season. We know today didn't turn out in our favor, but we are still super proud of you and everything you did this magical season. Congratulations and THANK YOU!


Attention High School Students! The Western New York College Fair will be held in the cafeteria on Tuesday, March 22, 2022 from 9:15 am to 10 am. Approximately 15 colleges from Western New York will be in attendance. If you would like to attend this event, stop by the Guidance and Counseling Department for details. The colleges attending are: Alfred State Alfred University Bryant & Stratton Buffalo State Canisius College Daemen College D'Youville College Erie Community College SUNY Fredonia Genesee Community College Hilbert College Houghton College Jamestown Community College Medaille College Niagara County Community College Niagara University St. Bonaventure University Trocaire College Villa Maria College Please note: UB will not be attending the consortium this year, but will be here on Friday, March 25, 2022 at 8:30 am.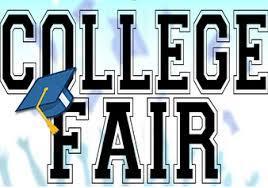 Our senior class spent the day together at Peek 'n' Peak making memories we hope will last them a lifetime.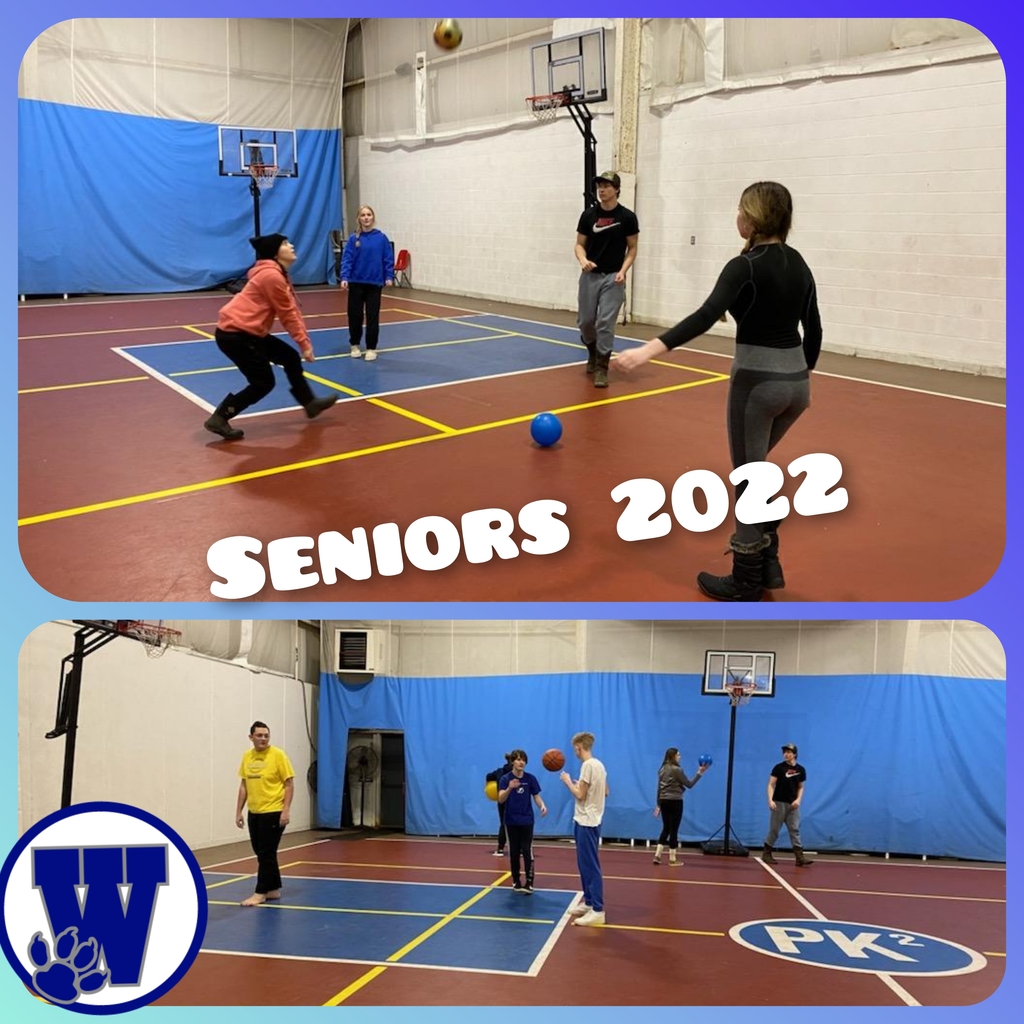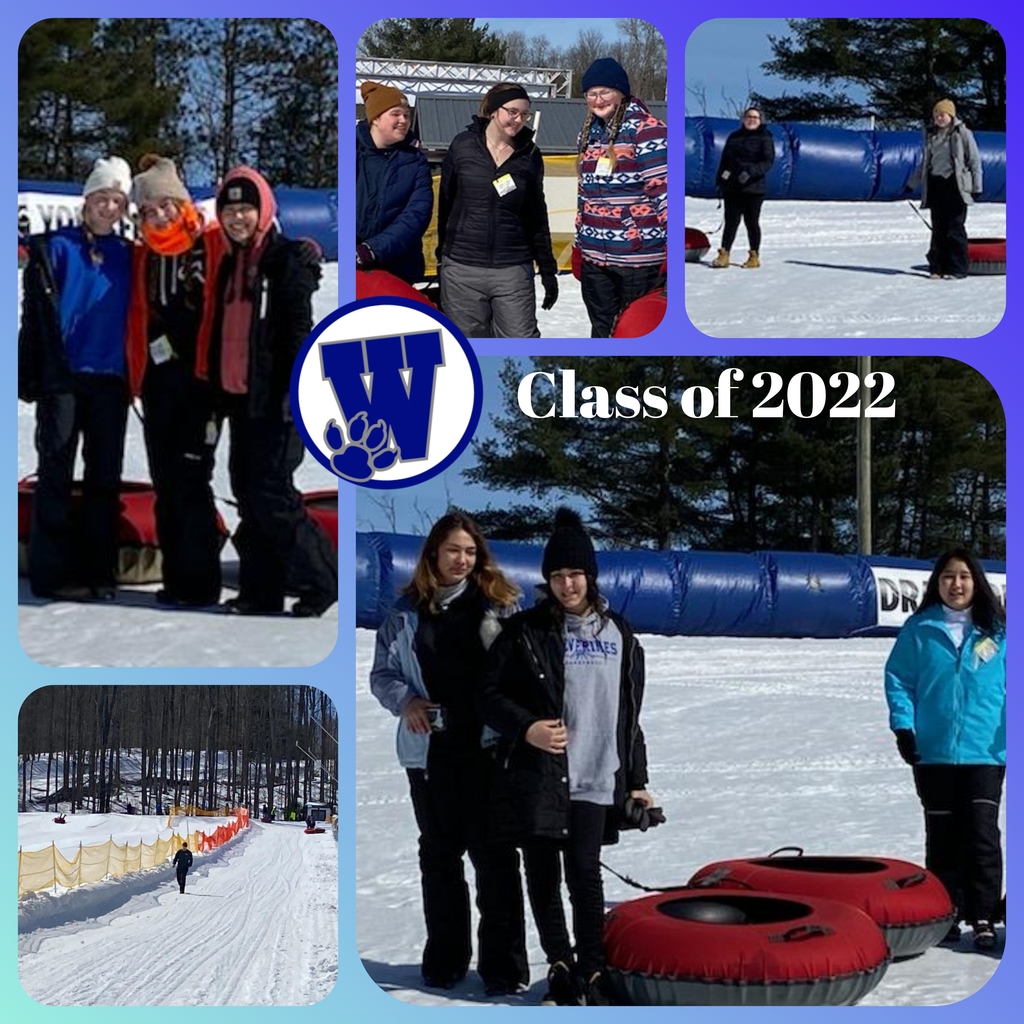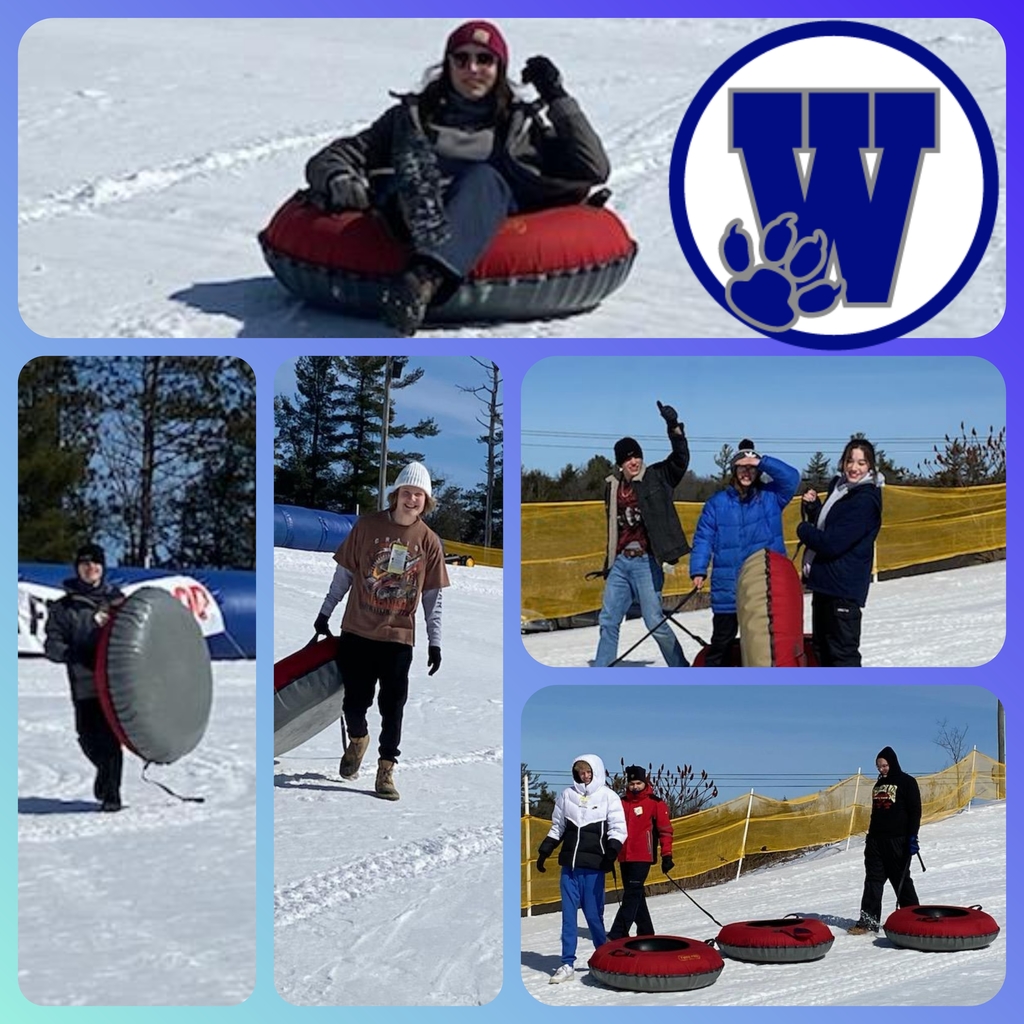 Lauren Bills, Rachel Eggleston, Dominic Quagliana, Laura Quisenberry, Joseph Smith, and Brenden Wood were recognized with Mathematical Honors from Fredonia State yesterday. They are pictured here with Mrs. Riedesel, Mr. Cooper, and special guest, Dr. Howard. Their honors include: Pi Mu Epsilon - H. Joseph Straight Award for Mathematical Excellence Chi Tau Omega- Robert Rogers Award in Mathematical Problem Solving and Creativity We are so proud of these students. What a prestigious honor!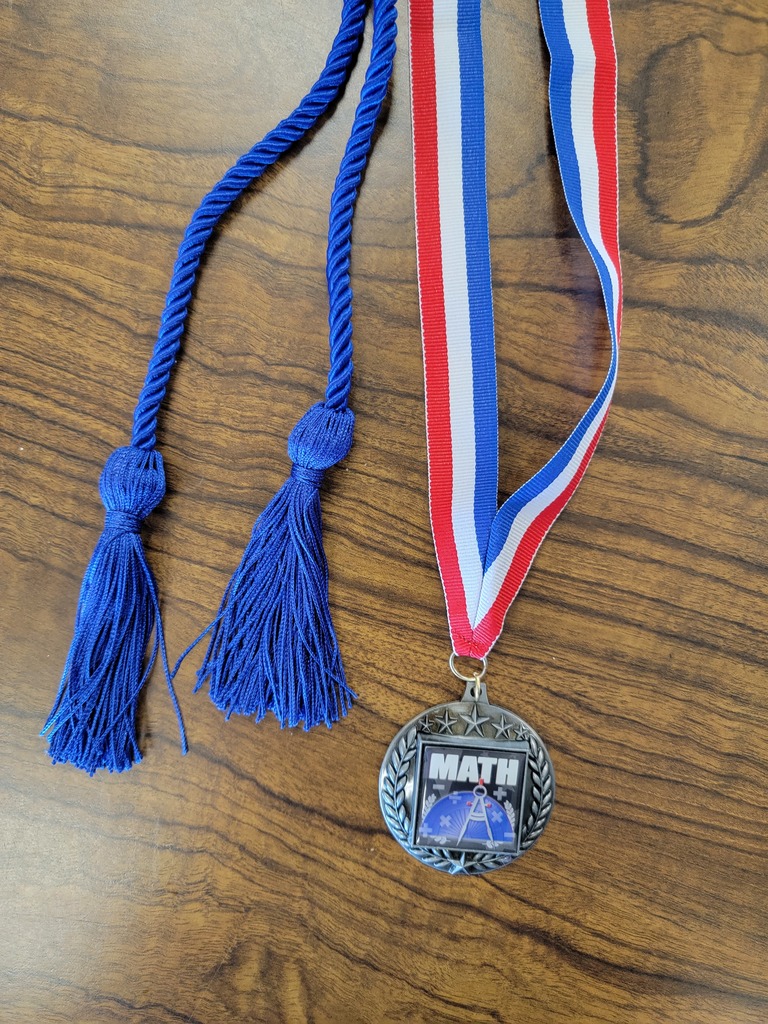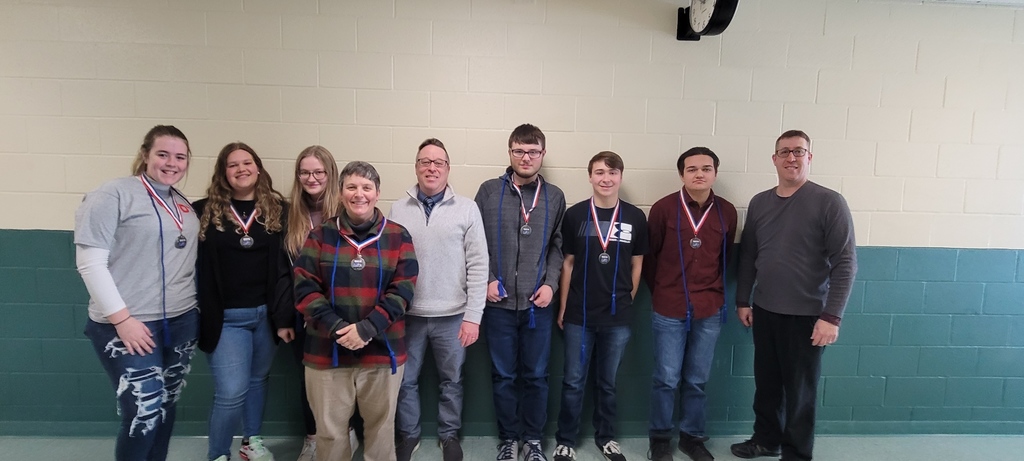 Our Boys Basketball team is playing in the Class D Finals vs Sherman at 6 PM Friday @ JCC. Tickets MUST be purchased ahead of time on Go Fans for $6 plus a processing fee. If you have any questions, please contact the school
https://gofan.co/app/events/499960?schoolId=NYSHSAAVI

Congratulations to Ethan Weingart for being named Dan Palmer's WDOE Athlete of the day for Friday March 4th! Great job Ethan!

Join us in wearing Blue & White tomorrow to support our Varsity Boys Basketball Team! (Elementary students are welcome to still wear PJs as planned for Read Across America if preferred)