On Wednesday, June 17, 2020 there will be a special WACS Board of Education Meeting starting at 7 pm with budget and board member election results. We will share the live stream link next week.


Our Senior Drop-off and Pick-up is well underway. We are here until 12pm and then back again from 3-6pm for our class of 2020 students to grab items that were left in the building and to drop off their school materials and laptops. Our Senior Class Advisors are on hand with caps and gowns for graduation. Pictured here are Class of 2020 President, Dylan Scriven, and Valedictorian, Katie Bodenmiller making their trips through the two front loops. We will see underclassmen on their designated days next week! #westfieldstrong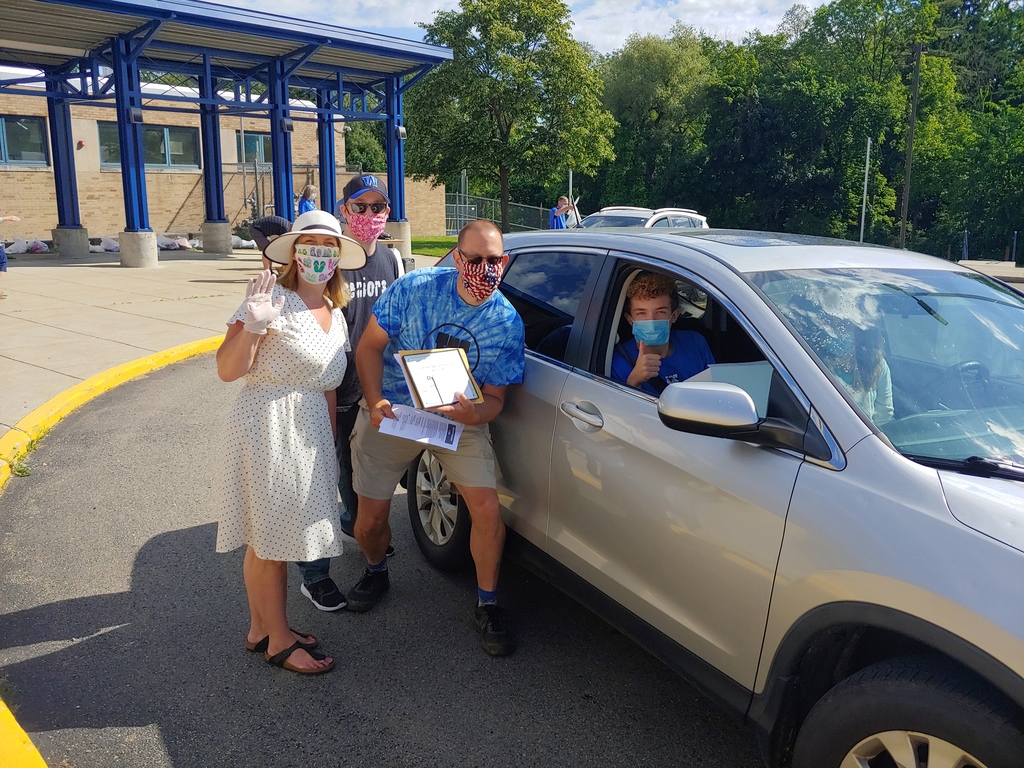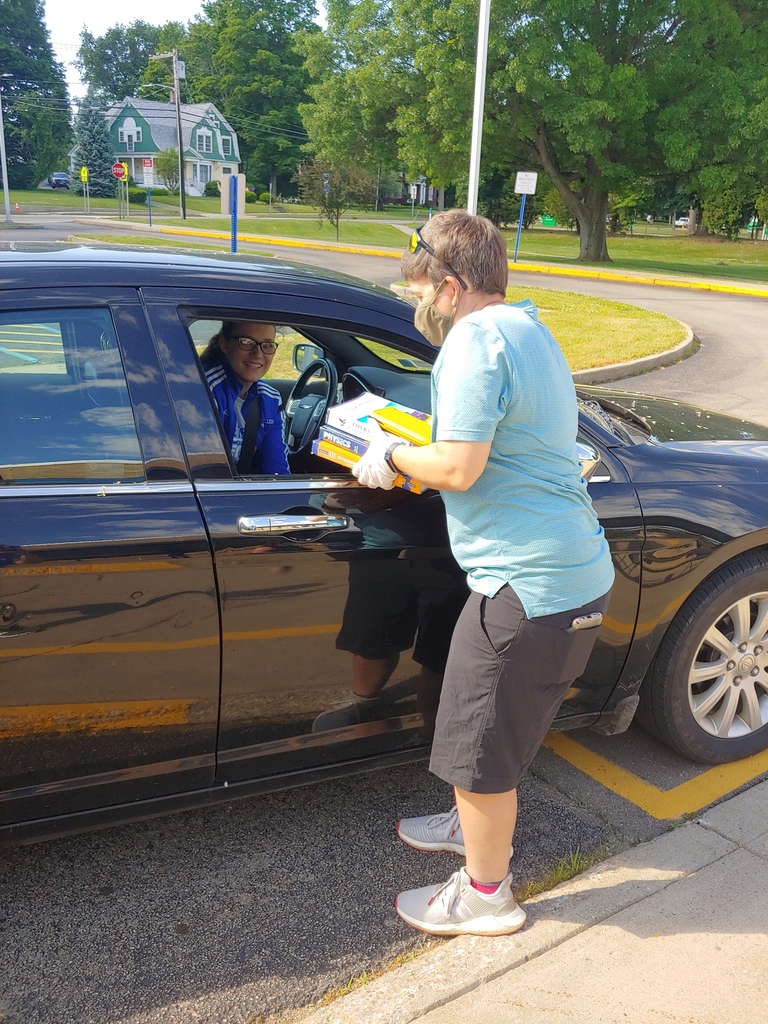 Yearbook 2020 Delayed Delivery Notice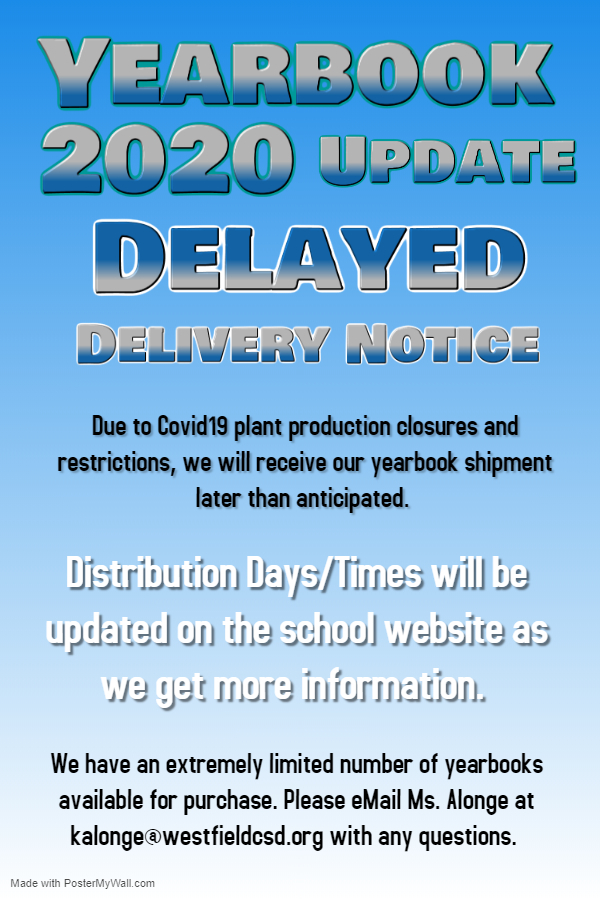 Congratulations to Senior Isaac Caballero who was awarded First Place in the "2020 Jostens Photography Scavenger Hunt" contest. Isaac has been on the Yearbook Production team for the past three years where he has held the positions of Sports Section editor and is co-editor of the 2020 yearbook. Judges remarks: "We especially loved Isaac's creative use of birds eye view to capture this portrait. The way the colors lead you down the frame to the subject & the shadows lace-effect on the subjects face is beautiful! Excellent job Isaac!"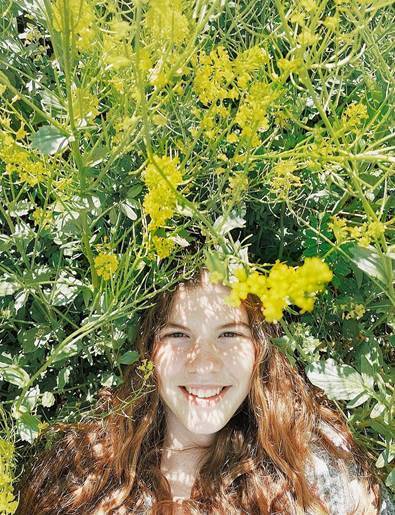 Governor Cuomo has issued an executive order extending the deadline to receive ballots for the 2020-2021 Budget Vote & Board of Education Member Elections. The deadline is extended to Tuesday, June 16, 2020 by 5:00 p.m. Under this order, qualified voters may hand deliver ballots until Tuesday, June 9, 2020, by 5:00 p.m. to our school. Ballots will be received by mail through June 16th at 5:00 p.m. Please contact Julia Murphy at
jmurphy@westfieldcsd.org
or 326-2151 if you have any questions. Thank you!

Elementary Students - Please join us for a parade! #westfieldstrong *We are following all local and state guidelines. Social distancing will be required for staff and we request that all families remain in their vehicles at all times.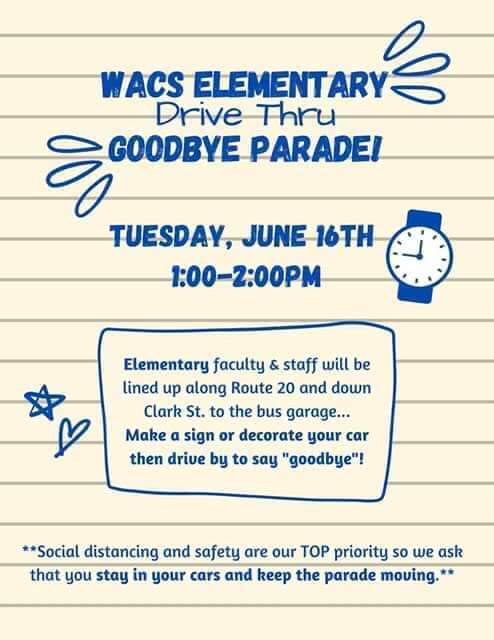 6-12 End of Year Drop off and Pick Up Details - Just a reminder for students and families in our Middle and High School about picking up locker materials and dropping off books, laptops and other school items. This document was shared previously with all students and can be found on our website under Documents--> Middle & High School --> Secondary Documents. *9am-12pm & 3pm-6pm * 6/12 - Seniors 6/15 - Juniors and Sophomores 6/16 - Freshmen and 8th Graders 6/17 - 6th and 7th Graders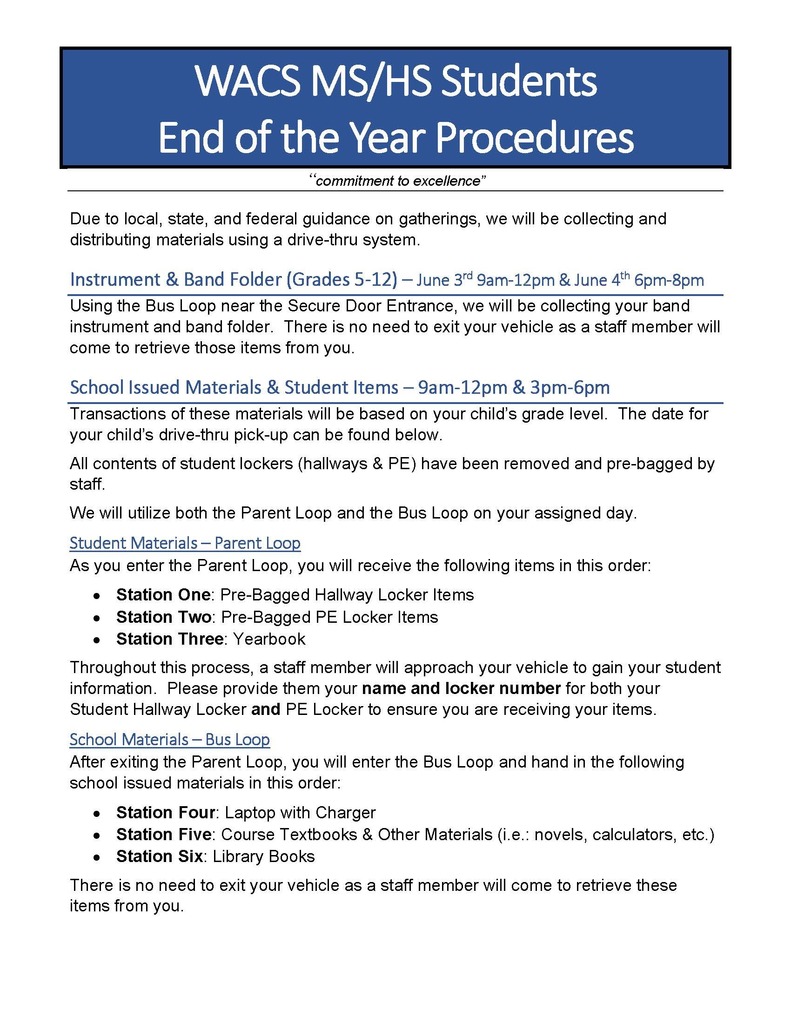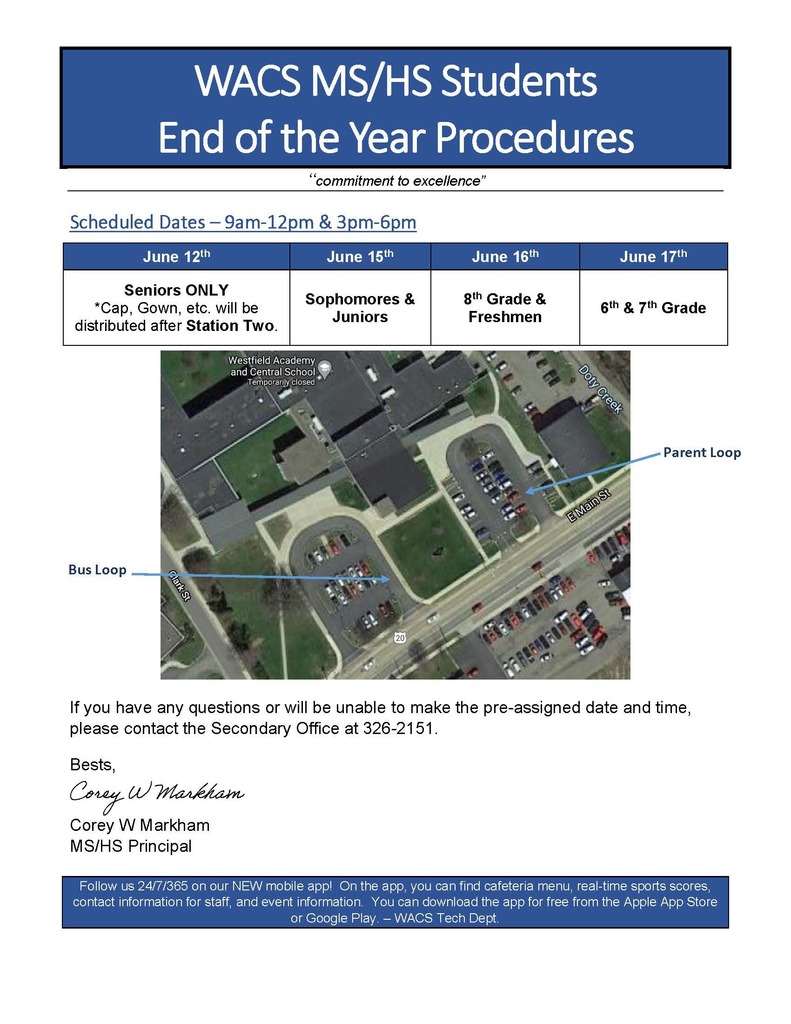 There will be a mandatory ZOOM meeting of Seniors and their parents on Thursday June 11th @ 6pm. This will cover many Senior items, including graduation. We will be using the Class of 2020 Zoom Class ID and Password from our Monday Senior meetings.

Class of 2020 here we come with your virtual activity night goodies from the prom committee and a special surprise from the after prom committee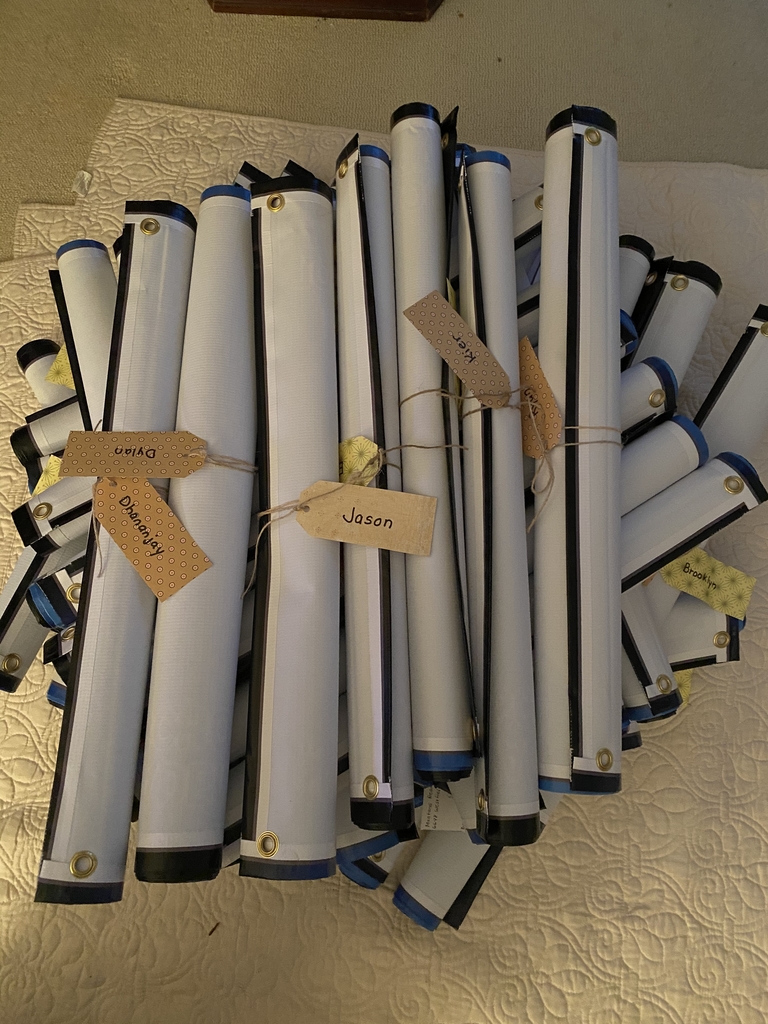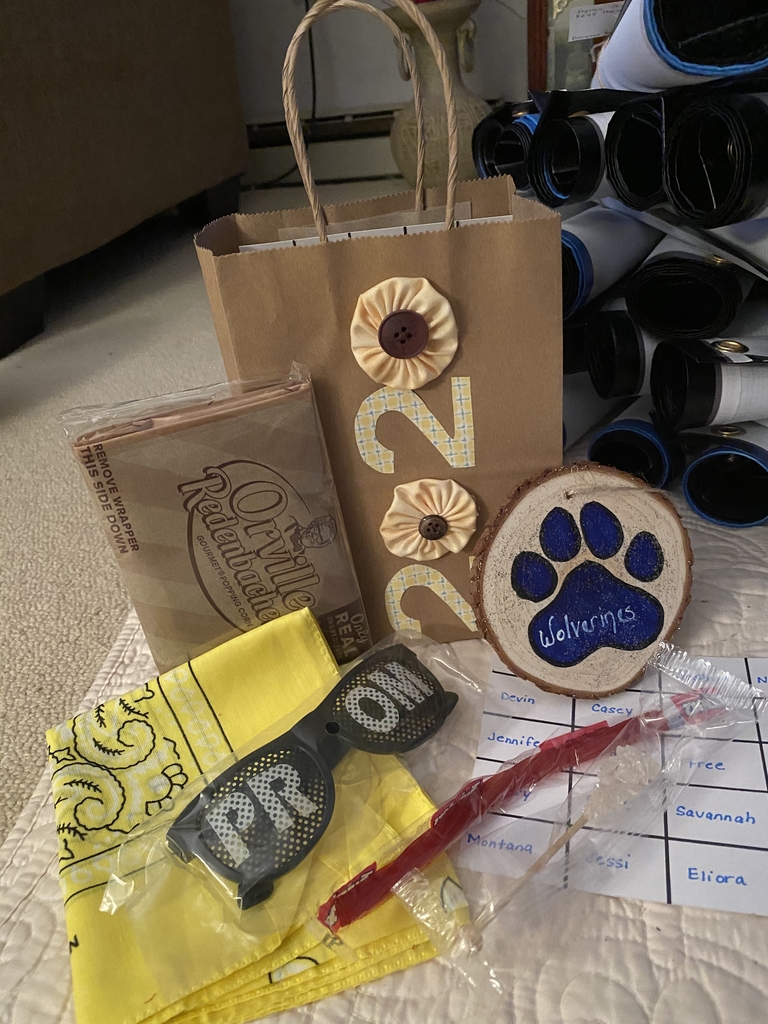 Prom advisors Ms. Zastrow and Ms. Alonge on bus 90 with Prom Virtual Activity Night goodies and a surprise from the after Prom committee for the Class of 2020!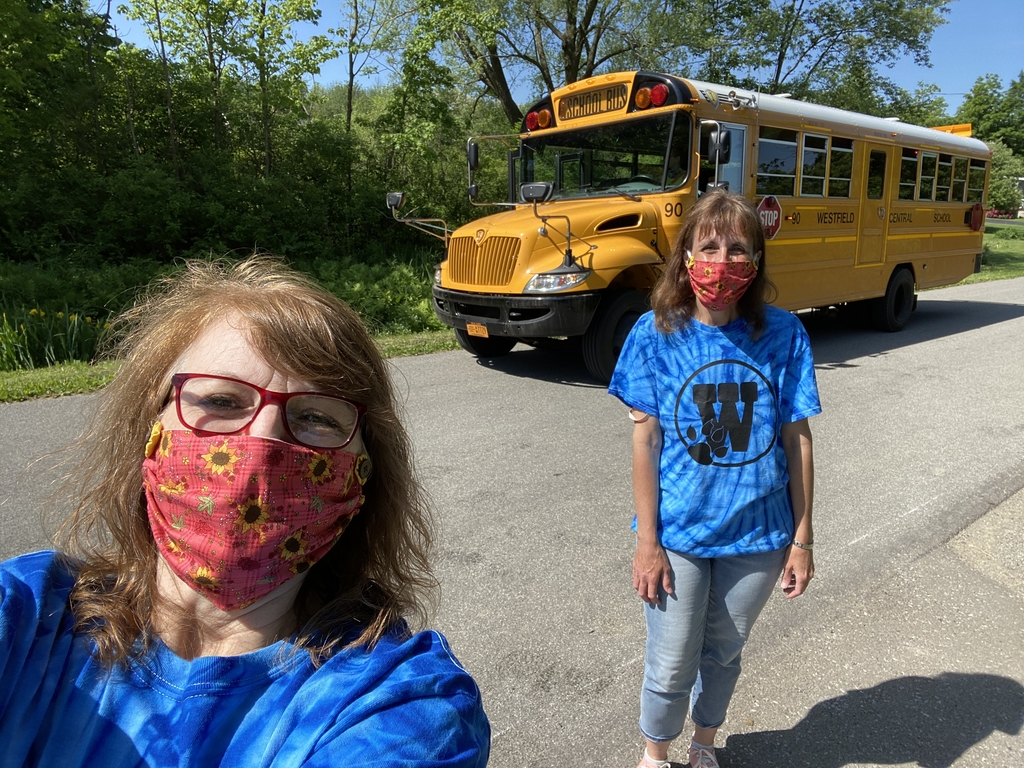 This is a reminder that Band instrument & folder dropped off is tomorrow Wednesday from 9am-12pm & Thursday 6pm-8pm in the WACS Bus Loop near the Secure Door Entrance.


SAT DATES: Information for high school students interested in taking the SATs has been posted under the main menu --> document-->middle & high school -->MS&HS Guidance--> SAT/ACT Dates found here
https://5il.co/gswf

Elementary Yearbooks: Yearbook production for our elementary students was interrupted due to COVID-19. We have been in touch with the publisher and hope to have yearbooks to disperse some time in June. No specific date has been set yet, but we will notify families when they arrive. Please contact Ms. Reed in the elementary office with any questions. #westfieldstrong

Class of 2020 June 6th Virtual Activity Night!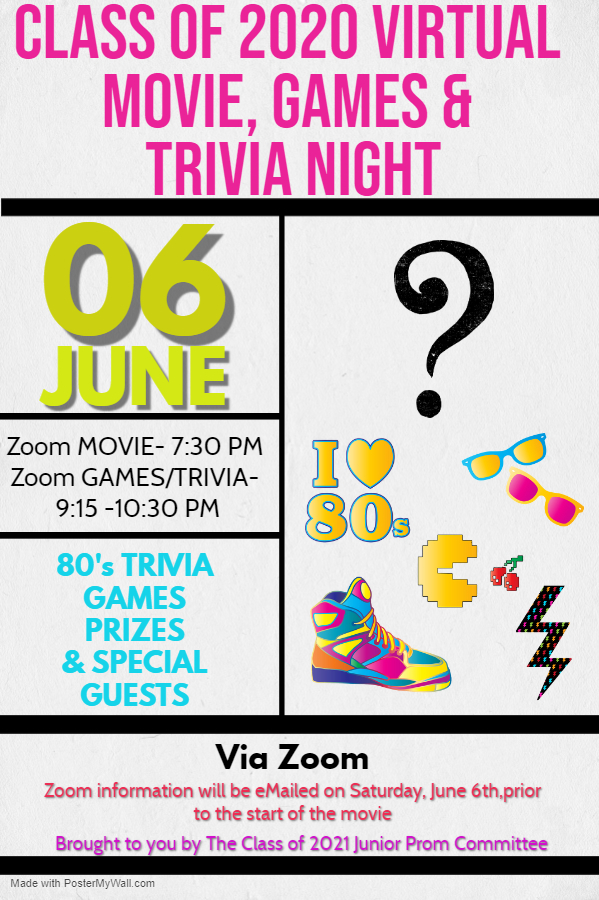 Good afternoon WACS Community! As the budget vote and board member elections approach on June 9th, we would like to re-share the voter eligibility requirements for this process. Each eligible voter is entitled to cast one ballot. A qualified voter is defined as a person who is: • A citizen of the United States; • Eighteen (18) years of age or older; AND • A resident within the District for a period of thirty (30) prior to the vote/elections. If you have questions or did not receive an absentee ballot, please contact the District Clerk via email at
jmurphy@westfieldcsd.org
or by calling (716) 326-2151 x 218. Have a wonderful evening.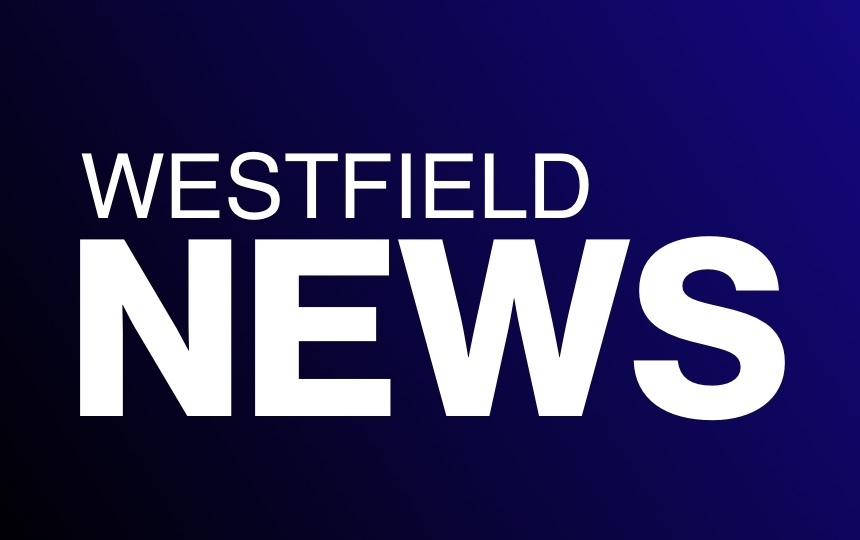 Our Prom/Class of 2020 Celebration Parade has been cancelled for June 6th. In lieu of this, we will be planning an evening of remote activities for the Class of 2020 for that date. More details for this special occasion will be forthcoming soon.

And then there were 28....... Only 28 copies of the 2020 Yearbook left to order and pre-pay at Jostens.com